Let's move on and get acquainted with the first village which is a part of the Larnaca urban area. It's name is Oroklini.
Where is the village of Oroklini?
Our village is located northeast of Larnaca towards the UK military base of Dhekelia and the famous tourist village of Ayia Napa. A significant part of Oroklini is located on the outer side of the Larnaca beltway (i.e. Larnaca - Ayia Napa highway), a small part is inside the beltway, right on the seashore.
Here we must pause our narrative and tell you that the author of articles about Larnaca has been living in Oroklini since his move to the island. And he is not going to move anywhere from here. Therefore, the article below will be subjective and will be about why this village is the best in Cyprus. And you can either agree or argue with the opinion of the local resident.
Why is the village of Oroklini the best Cyprus has to offer?
First, it has the best location. It is only 7-10 kilometers from Larnaca (depending on where you live in Oroklini). If you are in the coastal area, there is a bus every 15-20 minutes to the city center and the airport. You can live without a car in Oroklini! It's difficult, but you can try.
Well, there are a lot of such villages around Larnaca - you will say.
And you will be right. But these are not all the advantages of our village. Oroklini is the closest coastal village to Nicosia (it is the nearest village in the "Greek" part of the island)! Look at the map. Closer to the capital is only Larnaca (Livadia village has no access to the sea, this will be discussed in a separate article). But Larnaca is a city with all the city's disadvantages. There is no real solitude, such silence. There is no birdsong early in the morning, no smell of nature and no gypsy children stealing oranges from your garden.
The center of Nicosia is only 50 kilometers. Is this distance long? For example, if you are from NYC, then the distance from Staten Island to Central Park is about 50 km.
In other words, for us, Oroklini is not only a suburb of Larnaca, but also a suburb of Nicosia. And living in this village, you can easily travel to the capital for any reason! By the way, you can also take a bus to Nicosia, but first you need to get to Larnaca city center.
What else can Oroklini offer you? It's just a stone's throw to Ayia Napa.
Ayia Napa is about at the same distance as the capital. You can also go to Ayia Napa by car, by bus (there is a bus stop in Oroklini), or… by bike. The author once took a similar route, but now he does not want to go there on a bike alone due to his strong сynophobia (i.e. fear of dogs).
Two more small boni. Oroklini is located two kilometers from the border of the Republic of Cyprus / European Union (with the UK), as well as three kilometers from the famous buffer zone. Both places are unique. In the first one, you can step on British soil, swim near a military base (as the locals do when tourists come to Cyprus and occupy all the beaches) and just get acquainted with an unusual area - the British military territory, most of which is cultivated by ordinary Greek Cypriot farmers. Inside this military territory, there are also ordinary villages - enclaves of the Republic of Cyprus.
Another, no less wonderful world is Pyla.
A village where Greek and Turkish Cypriots live together. Well, together and separately at the same time. They go to different shops, schools, bars. Both of these worlds will be considered in separate articles, now they are mentioned with only one purpose - you must remember that Oroklini and the surrounding lands are very colorful territories. Life in British Cyprus, Pyla, Oroklini and Turkish villages on the other side of the buffer zone is different. But these villages are literally within walking distance from each other.
What does Oroklini mean?
The village can be called Oroklini and Voroklini in English. In Greek, it has three variations: Ορόκλινη, Βορόκληνη, or Βορόκλινη. The last two are pronounced identically in modern language.
What does the name of our village mean? Hmmm… We don't know. We can only guess. This is usually done like this:
We take "Oroklini" and divide it into two parts: "oro" (όρος - "mountain"), "krini" (κρήνη - "source of water", "fountain") (the transition from "l" to "r" and back in Greek occurs often). It turns out that this is a "village with a mountain spring"! And yes, it really is. There are no mountains nearby, but let our hills be mountains. And there are many springs (as well as in the neighboring villages).
We take "Voroklini" and imagine that earlier it was called *"Vromokrini" (although we have no information about this). Now the village consists of the words "vromiki" (βρώμικη - "dirty" (in the feminine gender) and "krini" (already mentioned "spring"), that is, "a place with dirty springs." And this name is most often indicated as the most probable. Why? Because there are no high mountains here, and the springs could be bad.
But that's not all! Our village (and we'll talk about it) is near the hills. Therefore, there is also a third option: "Oro" (our "mountain", which is actually a hill) and a noun made from the verb "klino" (κλίνω - "to go down"), that is, "a place under the mountain".
However, in fact, we should admit it. These are all theories. There is a wonderful map by Giacomo Franco dated back to 1573. And our village is called Vorochini in Italian. What language is it from? From Greek or not? Does it really mean the "spring"? No one can say that at the moment.
But if we pay close attention, we will see that our Vorokini on the map is located in the wrong place, somewhere behind Pyla in the modern Buffer Zone. Why? Let's talk now.
The place is ancient. But locals moved to live here recently.
Let's get acquainted with one of Oroklini's paradoxes. The territory of the village was well known in ancient times. The roads we are going to talk about may be several thousand years old! Why was this land important to ancient people? Here are some reasons:
There was copper in the hills a little further, but there was no copper anywhere else in the area (the nearest was only near Troodos, and it was too far, the strangers lived there who wouldn't share their resources).
This place is close to Larnaca (i.e. the ancient Kition-Citium and its numerous predecessors). If there is good weather and you are in a good mood, you can walk to the city and back.
An ancient (many-thousand-year-old) road passed through modern Oroklini, connecting Kition with Salamis and pagan temples on the territory of modern Ayia Napa.
OK, the place is great. But why are there no good remains of that time? But only new houses? Because this area in the Middle Ages (though it is not entirely clear when) was massively abandoned by people who returned here only after the Turkish conquest.
Let's remember the history of Finikoudes. In the Middle Ages, this territory was abandoned by people due to piracy, enemy raids and other unpleasant events when houses were burned, goods were stolen, and people were killed or taken into slavery. The inhabitants of the outskirts described today had exactly the same fate, so they fled to other areas: inland, away from the dangers of the sea, or forward Larnaca under the protection of a fortress (take a look at this article).
Everything changed when the Ottoman fleet began to control the sea.
Then people began to settle here. Gradually. In the first decades of the British rule (census of 1881) there were 60 houses in which 260 people lived. 20 years later (1901 census) Oroklini had 81 houses (+ 2 public buildings) and 349 people. 20 years later (1921) - 101 houses (two public buildings have disappeared) and 397 people. Then (1946) there were 147 and 611. Thus, the population grew little by little, the same as the general statistics of the birth rate on the island. The situation changed in 1974, and then there was a real demographic boom in the 90s.
After the north of the island was occupied by Turkish troops, some of the Greek-speaking refugees from those areas fled to Oroklini. In one year, the population of our village increased by one and a half times and then, in the early 80s, it crossed the mark of 1000 people. But that was only the beginning. Thanks to the expansion of Larnaca, the emergence of international tourism and the migration of some city residents to the suburbs, the population of Oroklini began to grow by outrageous numbers. It just doubled every 15 years! This is best seen in the Wikipedia graph based on the census.
Why did Oroklini become so popular?
Favorable location and no Turkish property. The Turkish Cypriots did not live here, which means that there is no land with an unclear status here. (Read more about the problem of Turkish real estate).
What is Oroklini?
Oroklini is divided into two parts: the coastal tourist area and the village itself. The two parts are separated by the Larnaca-Famagusta highway, which is also a kind of Larnaca beltway.
As you can see, the tourist part is smaller, but today we will devote our attention to it, since most foreigners live here. The coastal part is bordered by Livadia and Larnaca on one side, and by Pyla on the other. In both cases, you can find out that you are crossing the border between villages only by finding the signpost, since de facto it all turned into one big Larnaca.
Dhekelia highway. Which is not a highway at all, and not Dhekelia at all
The Oroklini tourist area is the Dhekelia road (or Dekelia, or Dekeleia…) and the long narrow urban area along this street. A few words about this road.
This is the old Cypriot road that connected Larnaca with Famagusta. A little further, near modern British Dhekelia, it sharply turned inland and went to Famagusta through Varosha. Therefore, the official name of this road is Famagusta road (δρόμος Αμμοχώστου).
Here is the famous Kitchener's map, 1881:
This is a really old road, which, most likely, is several thousand years old. Along it, the Romans, Crusaders, Turks walked. Why can we think so? Because the ancient road could not be somewhere else in this area. We know for sure that there was a road, a coastal road, and because of the lake and the swampy area in certain climatic periods, it was best to build a road right along the sea. In any case, even if the road was not exactly in this place, then somewhere very, very close.
So, a little over 100 years ago, our Oroklini looked like this:
A small village next to the hill. Then there are fields, fields, a small place called Dhiazienas Chiftlik ("Diaziena's farmstead" in such a mixture of Turkish and Greek, if I understand this correctly) and some strange areas (without inscriptions) on the seashore, and that's all.
And over 100 years this backwater has turned into an urban agglomeration:
The road got a second semi-official name - Dhekelia road. I.e. the road leading to the British military base Dhekelia. This name is the most popular in the spoken language today.
Now let's walk along this road. We will start our way from the border with Larnaca / Livadia. We find ourselves at one of the many canals that flow from the Livadia plain.
All about this another time, when we talk about Livadia. For now, let's just mark the unusual border. We are on the border of three municipalities at once. It will be clearer if you look at this:
As already noted, the village of Livadia does not have access to the sea. Let's pause our story for a minute and think, why? Because right behind Oroklini begins this:
And then it looks like this:
These are oil tanks on the site of an oil refinery that was closed 20 years ago. Since both tanks and a refinery played an important role in the life of the island, its territory was controlled by the "strongest" municipality - i.e. Larnaca. The village-municipality of Livadia did not receive access to the sea. Sounds like the "imperialism" of the XX-XXI centuries!
Now all this is being dismantled (read more here), the land will be cleared and then transferred for active urban development. We will get one continuous coastline from Pyla to the city center.
It seems that the owners of real estate in Oroklini will only benefit from it as the demolition of reservoirs and the subsequent development will change these areas for the better. There will be more tourists, more luxury housing. This means that the cost of renting and buying land and real estate can rise significantly.
Another question is interesting. After demolishing… will Larnaca give Livadia this land, which geographically should belong to the latter? We'll see.
From a village to a village
We are greeted by the sign "Welcome to Oroklini" and our first Oroklinian houses with periptera are already visible (if you don't know what a periptero is, then read here).
We can see the first, not yet fully built up area. The hotel is being restored on the right, while on the left, houses that are purchased for rent (long-term or short-term) or in which the owners live.
During our walk we will see several dozen blue buses (425 and 424). They connect our coastal Oroklini to Larnaca (and most of them to the airport). The newest buses were given for this route - here you can charge your gadgets and use wi-fi.
Dhekelia Avenue is constantly watered, so it blooms all year round. Living in such an area is a real pleasure.
The police station and fire station begin just outside the area discussed above. A good reference point so as not to get lost.
A road to the center of the village and the entrance to the Larnaca - Ayia Napa highway immediately behind them. There, along the way, you can see the famous Oroklini Lake, which is literally full of flamingos and other species of wild birds that come to visit the island in winter. In summer, the lake dries up almost completely.
Also here is the famous Crown Henipa - a popular cheap hotel. Everything is nice, but access to the sea is not very convenient.
The sidewalk from Henipa to the sea seems to exist, but it is not exactly.
Such genius urban planning is known not only in Cyprus, but also in many other countries, so we will not pause here and go further.
Residential buildings and the newest Lebay Beach Hotel start right behind Henipa right by the sea.
The area a little further from the sea, on the contrary, turns from buildings into fields.
This is another small enclave. By the way, now we have met a bus from Ayia Napa. Very conveniently. Take the bus, visit the best beaches in Cyprus, return to your village. No cars, no changes of buses.
The next area ends with a small canal and then continuous development begins. Hotels, houses/apartments for short term rent, houses/apartments for long term, houses/apartments where Cypriots/foreigners live.
The Palm Beach is also located here:
As well as the Radisson Beach Resort which is under construction (by the time you read the article, it may already be built). It will look something like this:
Do not confuse it with Radisson Blu, which is located on the same road, but in Larnaca, a few minutes drive towards the center. This one has already been completed and looks like this:
But let's return back to our Oroklinian Radisson. This will be the largest hotel in the Larnaca district, which will also greatly change the lives of local residents and property owners.
Locals have already built new cafes and shops around the Radisson which is under construction. And they are waiting for the first tourists.
Now the Radisson Beach Resort in Oroklini is almost completed:
But there are much cheaper hotels. For example, Boronia (or incorrectly Voronia). Tourists come here in large numbers. As you can see, here access to the sea (on the other side of the road) is without problems.
A little about the sea in Oroklini. This is the Larnaca Bay (the Pyla Bay). Sand mixed with pebbles. There are places where there is only pebble, there are places where there is only sand. But the place looks amazing, both during the day:
And in the evening (you can see the city center and the other Radisson hotel in the distance):
Fogs are relatively common here:
Here is Redisson under the fog.
As every area in Cyprus, Oroklini is occupied by furry animals:
Odi et amo (Latin - I hate and I love)
Both adults and children can swim and relax. The embankment is full of playgrounds for kids and fitness equipment for adults.
Who lives in the coastal areas of Oroklini?
It is clear that there are many tourists here.
There are many foreigners living here permanently. Especially Russian speakers. The latter loved to visit a bar called the Singing Owl. Not sure if they survived the pandemic. Anyway, before the coronavirus, Russian-speaking people came here from all over the district.
There are also many British Cypriots here. There are even more of them in the central parts of Oroklini as the village is Greco-British. They speak on the street not only Greek, but also English. At the same time, do not be surprised if you see how a Cypriot girl speaks British English without an accent, and a man of Northern face and red hair speaks the Cypriot dialect of Greek as his native language. There is a bilingual society.
The British gather in several places in the coastal area of Oroklini. For example, here:
This is one of the British neighborhoods. A British Cypriot bar called Agrino (i.e. "mouflon") and second-hand.
In general, the coastal Oroklini has a number of bars, hotels, and cafes. For example, here is the famous Nero: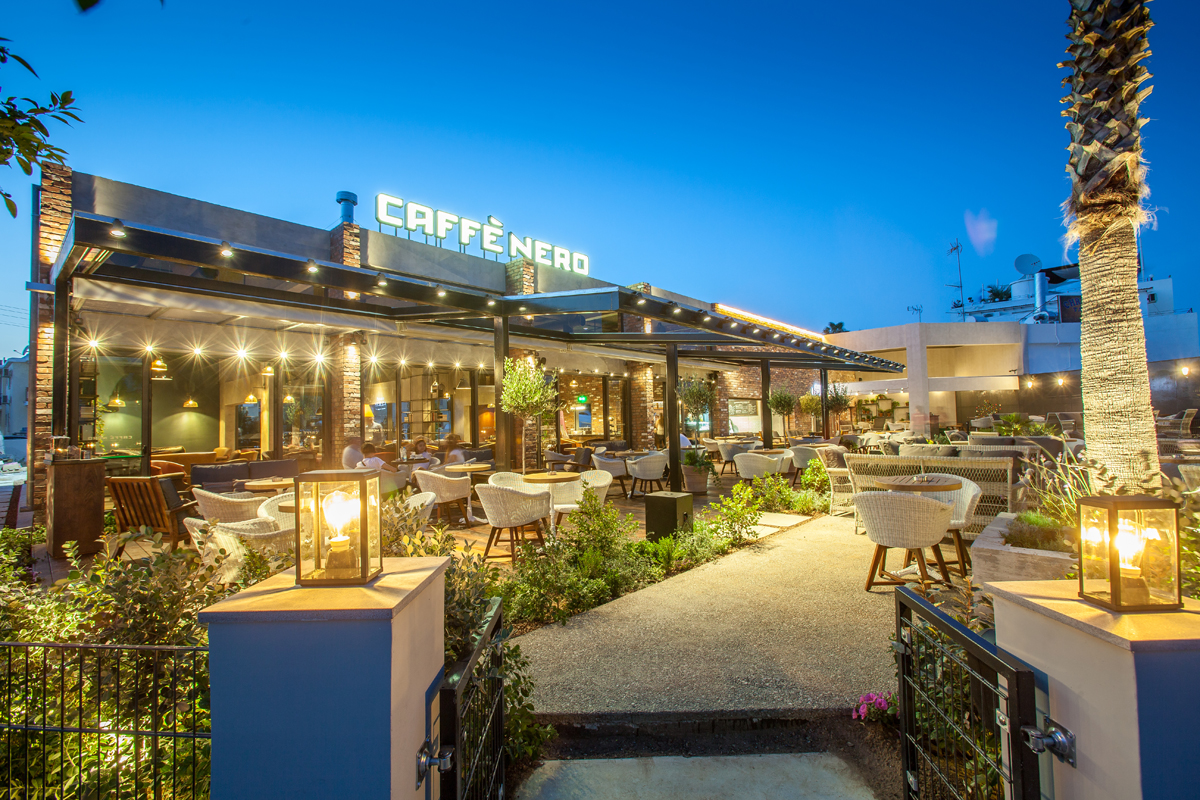 But there are no big stores. The nearest "Kritikos" (Κρητικός means "a Cretan", although probably this is the owner's surname) is located in the very center of Oroklini. You need to drive to it or go on foot, but only in good weather. Also there is the cheapest hypermarket in Larnaca district nearby, it's called Stelios and it's in Livadia.
You can read about grocery stores in Larnaca here.
In Livadia, you can also find the famous Jumbo with household goods and children's toys. Residents of all areas of Larnaca district visit Jumbo and Stelios. It is interesting why the municipality of Larnaca did not seize this territory of the Livadia village, as there are such strategically important objects here. This is a joke. :)
In general, the coastal Oroklini is a developed area. But it will continue to develop for a long time. As already noted, there is agricultural land, which will obviously be resold over time for building. And there are also old buildings for demolition:
Oroklini ends unexpectedly and completely unnoticed. The border with Pyla begins here. There used to be a road sign like 'Bon voyage - Oroklini' and 'Welcome - Pyla'. Now the sign has disappeared.
The border between the villages can be seen in a different way. There are two bus stops at a distance of 40 meters from each other(!). One of them has no inscriptions (and this is Oroklini):
And the other has 'Pyla Community Council' (and this is Pyla):
Why did they build 2 bus stops next to each other? No answer. But at least each of the villages has their own stop!
What accommodation can you find in Oroklini?
Hmm.. Houses for purchase. For example, a house like this (under construction):
Total area is 250 meters (living area is 200 meters). Four bedrooms, pool, parking. Only €480 thousand (excluding VAT). For this house you can get permanent residence, if you are not a EU citizen (more details here).
There are also two bedroom apartments for only €120-140 thousand (you do not need to pay VAT, since it is a secondary property). For example this.
At the moment, DOM real estate is actively developing in Larnaca, so soon you will be able to see a large list of properties in Oroklini for sale here and for rent here.
Village of femmes fatales
We walked through the coastal part of Oroklini. Another time we will walk around the central parts of the village, as it is another world. Now, as an afterword, so that the village will forever remain in your memory, we would like to tell you about one event, thanks to which the village of Oroklini became popular throughout Cyprus.
A meme 'Marina of Oroklini' (η Μαρίνα από την Ορόκλινη in Greek or η Μαρίνα που την Ορόκλινην in Cypriot) appeared on the Internet and even entered the dictionary of the Cypriot dialect of Greek. But what does this expression mean?
It was 2016. March 29. A regular flight A320 of 'Egyptian Airlines' made the ordinary route Alexandria-Cairo. There were 56 passengers on board: Egyptians, Italians, Americans…
Suddenly, the pilots were informed that one of the passengers was wearing a suicide belt and was demanding to fly towards Cyprus. Well, the crew had to change the route. An hour later, the plane which was under the supervision of Israeli and Cypriot military landed at Larnaca airport.
It turned out that there was no suicide belt, as well as no terrorists on board, and the plane was hijacked by a history professor from Cairo University. Upon arrival in Larnaca, he freed almost all passengers and presented his first demand - 'to urgently meet with Marina from Oroklini.' It turned out that Marina was his ex-wife, who moved to a Cypriot village. He had difficult relations with her.
Marina quickly drove to the airport and persuaded the professor to give up. He listened to her and freed the rest of the passengers and the crew. He waived his demands (for example, to release all women from Egyptian prisons). Since then, 'Marina from Oroklini' became an internet meme which means a 'fatal woman, for the sake of which men are ready to go mad.' Then Oroklini became known all over the world.
On such an unusual story, we will end our walk today. Stay with us!
So, we have already visited: Finikoudes, Makenzie, Skala and Drosia, and also briefly took a look at grocery stores in Larnaca. There are still a lot of interesting things ahead! And if you need to rent / rent out, buy / sell real estate in Oroklini, as well as anywhere in Larnaca, Limassol and Paphos districts - contact DOM real estate!
Read also:
Source: DOM LiVE
Photos: DOM LiVE, pixabay.com